Hidden crown halo uses a hidden and elastic wire strand so that you can add more thickness and length to your hairs without using any tape and glue, and you can quickly put them on and take them off whenever you want.
These are designed like an elastic band with attached hairs on the back. Hair extensions can change your look, and you can also try different hair colors to style your hair.
Hidden Crown Hair Extensions
Hidden Crown Hair Extensions lifespan is about 3 to 4 months in a year, relying on how many times they are being used. If you want them to stay for a more extended period, then avoid using too many styling products on them.
Hidden crown hair extensions are made from 100% human hair, which can also be treated as your hair. That's why you can use a curling iron, blowdryer, straightener, washing and brushing as well as cutting them. In the case of styling your hair extensions with a straightener or curling iron, make sure the heat setting is less than 350 F as it will not damage your hair more.
Can we Dye our Crown Hair Extensions?
Most people ask a question; "can we dye our crown hair extensions?".
The answer to this question is YES! You can dye your hair extensions to get a perfect match with your hair. However, it is the best option to choose a dark color for your hair extensions or the same color. However, applying light color is not recommended because these extensions are already color filtered. Like bleaching can severely damage your hairs, using light color damage the extension.
But you should consult a professional because results won't be guaranteed, and these extensions are treated better with professionals. Although your hairstylist can also check your hair extensions and determine which color suits you the best.
The perfect hair match includes using hair color with hair extensions. However, you have to ensure that your hair extensions are completely matched with your natural hair. You can also apply clip-in hair extensions for your hair that can be bought from any beauty store, or you can also order them online. These are easier to use than professional hair extensions that require more skills for such applications.
Wavy Lace Clip-In Hair Extensions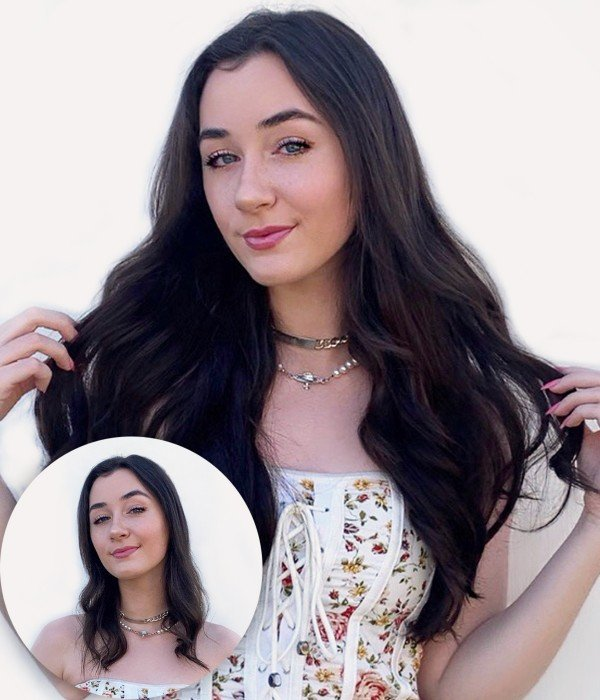 Clip-Ins are one of the easiest ways to add length and volume to your hair. Their best clip-in is Hidden Crown Hair Extensions Crown Clip-Ins at hiddencrownhair.com. They will match your hair perfectly with 100% human hair and are easy to apply.
Many applications are required to make your hair extensions lighter. If you want to dye your black hair extensions golden brown or blonde color, then first you must strip the extension to natural color, then bleach the extension because it will require many tries to change the color to desired shade. Then, at last, try the color but "strand test first." This way, you can ensure that the hair color has the perfect result.
As chemical products can damage your natural hair, strong chemical products also damage your hair extensions.
Here are some things that you should remember when dyeing your hair extensions;
●Whatever you do with your hair, you can also apply that to your extensions, such as dyeing, styling with a curling iron or straightener, and cutting.
●Although you can easily dye your hair extensions, you should test them first. Apply the dye to a small section of your hair extension.
Virgin Hair Extensions
Virgin Hair extensions are the best option for dyeing. Because they are not chemically processed, you can easily dye them without causing any damage to the hairs. However, avoid using any chemical products.
When Coloring Your Extensions
Whenever you plan to color your hair extensions, remember not to dye your hair extensions themselves. Remember that synthetic hair extensions cannot be colored because they are polyester and acrylic and do not absorb dye.
However, you can color only human hair extensions, usually dark or the same color. It is not recommended to dye your hair extensions a light color, so you have to be sure to go for a darker shade of the same color. And if dyeing, first dyes a strand of your hair. However, you can also stain your clip-in hair extensions.
Here are some tips for hair extensions;
Hair Extensions Tips
●Just like you take care of your hair, take care of your hair extension. Conditions them once a week, so they remain shiny and healthy-looking.
●Limit the use of chemical products and styling products to keep them working longer.
●Brush them instead of using a blow dryer.
●Don't dye your hair extensions yourself. Consult with a professional.
●Wash your hidden crown hair extensions only when it is essential.
●You can't wear them forever, so it is best to change them.
●Apply them correctly. Hair extensions will be maintained only if they are appropriately applied. For this, you can consult a professional person in such things.
●Whenever you remove your hair extensions, brush your hair thoroughly.
Conclusion
Hair is essential for improving our identity depending on what we choose, like dyeing our hair, cutting it, etc. However, continuous dyeing of your hair in different colors damages your hair more. So it is better to go for hair extensions.
These extensions don't grow like your own hair, but you have to take care of them because you pay for them, and they are relatively expensive. Some extensions require professional skills to apply.
Crown Hair Extensions include clip-in so that you can also apply them easily. They offer many hair extensions with 100% human hair and are easy to use.
Using hair extensions can add a new look to your hair and is also great for increasing the volume and length of your natural hair. Hidden Crown Hair Extensions are excellent in quality and best for adding instant volume to your hair. Hair extensions will remain shinier, long-lasting, silk, and tangle-free.