Human hair wigs are a luxury item and it is important to know where to shop if you are shopping online. A human hair wig is an expensive purchase because real human hair is hard to source. It is not uncommon to pay over a thousand dollars for a real human hair wig. If you find a website online selling human hair wigs for a very low price (less than $100 mark) then you should be cautious to consider if the website is a scamming website, or if the hair quality is 100% human and not mixed with another material like synthetic hair.
Here I will compare the top human hair wig online brands that are known in the wig market. On a side-note I covered the top brands I knew of, but I couldn't cover every possible one out there. I will compare these brands pros and cons so you can see which takes your interest and suits your wig needs!
1. Ellen Wille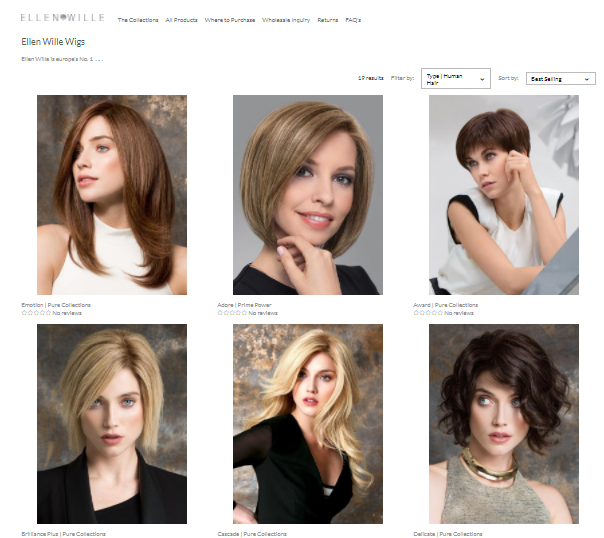 Image Source: ellenwille.com
Ellen Wille is a sophisticated online and physical wig brand. They started over 50 years ago and are pretty established. They are designed by Ellen Wille, a European wig designer giving the wigs her European touch. You can visit their website to view them but can only purchase through other larger wig websites or offline.
I love the different looks that Ellen Wille luxury human hair wigs have, and the design of their website was very clear and easy to navigate.
The wigs themselves look to be quality wigs that lay flat on the head and without looking like a wig at all. The lace front is already cut and plucked so there is no need to cut it.
Some of their wigs are on the expensive side, costing over $2,000, but it depends what your budget is. Human hair wigs are a luxury item and usually quite expensive wherever you buy.
I liked the fact that Ellen Wille offers many different hair fibers for the hair. For instance, they offer a blend of human hair and synthetic blend wigs which are less expensive, and they will last longer than ordinary synthetic wigs. Ellen Wille also offer European Remy human hair, which is known to be harder to obtain on the hair market. European hair is bouncier and suitable for people who prefer European hair texture over straight Indian or Chinese hair, which is what most human hair wigs are made from.
I couldn't find anything about Ellen Wille offering custom wigs, so it would be better if they had that option, so customers could request a specific wig for them.
Ellen Wille also have a salon-locator feature on their website, where you can search for a salon near you that carries the Ellen Wille wigs and toppers and try them on and see them in person before you buy.
2. UniWigs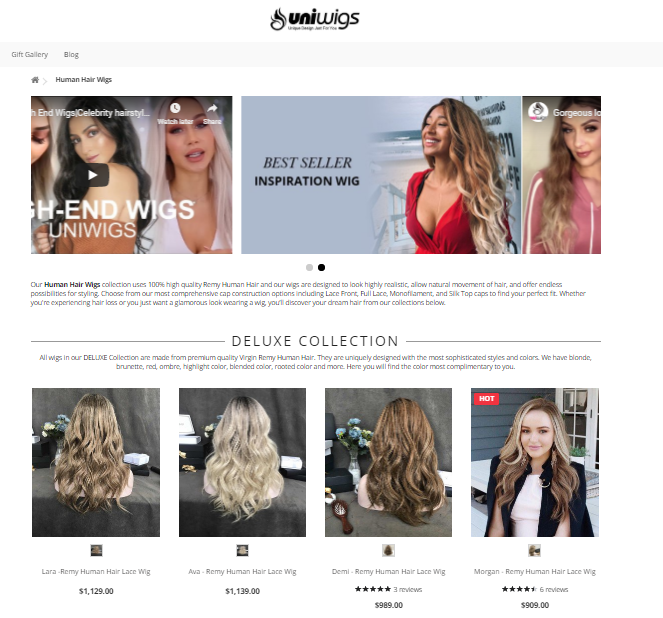 Image Source: uniwigs.com
Next we have UniWigs. UniWigs sell a variety of human hair wigs online. They seem to have two collections, a "Deluxe Collection" and a "Classic Collection". Their Deluxe collection features more expensive Remy human hair wigs, or wigs made from Virgin Remy human hair. Some of these Deluxe wigs have balayage, highlights and gorgeous coloring which may indicate why they are "Deluxe".
UniWigs Classic Collection wigs seem to be more affordable for human hair wigs. These wigs are simpler and more timeless. I like how they have different options of color and hair textures, some of their wigs are straight, and some have added permanent waves, and some have more of a deep curl. The prices are great for the quality, even the Deluxe Collections most expensive wig is about $1,000 which is not bad at all for a luxury wig. You do get your bang for the buck here.
UniWigs also have a title under the header that says, "Custom Wigs", where they offer a customization service. This service can allow you to customize your wigs' hair, length, coloring and cap! This feature would be perfect for women that had lost their hair and wanted a wig exactly like their old hair. I thought this feature was really unique, as I couldn't find many wig brands that offered this customization service.
I like that on UniWigs website the wigs are star-rated so you can see which are most popular and read the customer reviews which are all displayed underneath the products.
I notice UniWigs has a big social media presence and I have heard of them in the wig world, just by the amount of helpful YouTube videos and customer reviews they post. They also have various Instagram channels for each of their product lines. This is helpful for customers who want to stay updated.
One disadvantage of UniWigs however, was that some of the wigs were presented on mannequin heads, or on selfies of women in lighting that may not be accurate to the color.
Another thing is that UniWigs sell human hair wigs that are only made from Indian or Chinese human hair. They sell remy, virgin remy, or normal human hair. It would be great if they increased their different hair and fiber materials.
Also, the hairline of some wigs is not pre-plucked so you may have to put in a little work plucking the hairline and parting. Their lace-front wigs also require you to cut the lace yourself, which could be a good or a bad thing depending on your own preferences.
Overall, I really like UniWigs website and their variety of affordable and beautiful wigs.
3. Jon Renau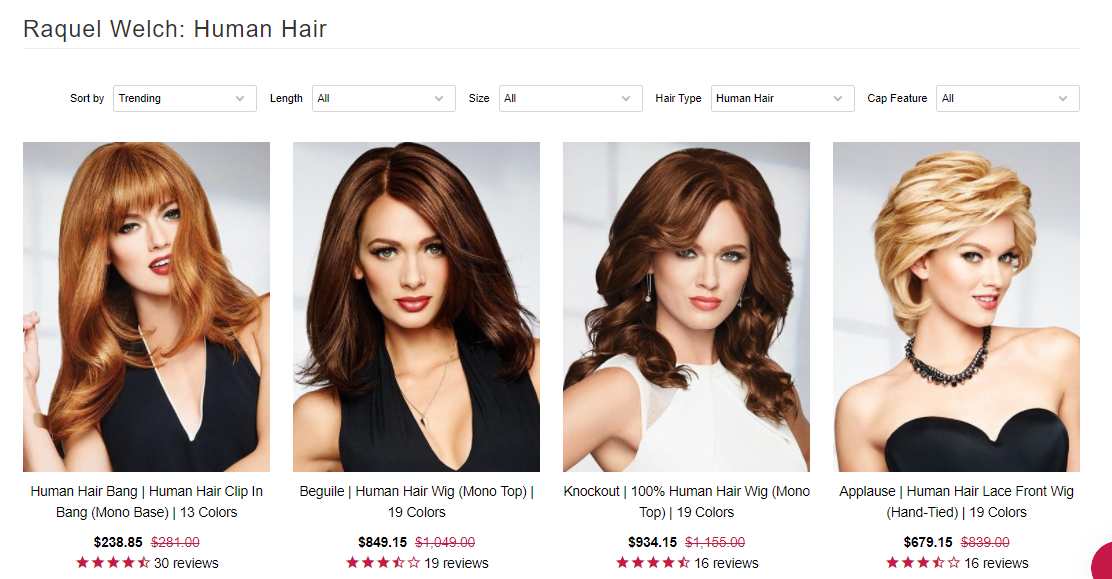 Image Source: jonrenau.com
Jon Renau are very well-known wig brand, and I had heard of them before. They have a reputation of being one of the best. Jon Renau has their own website to showcase products, but are sold through larger websites such as Wigsalon.com, Headcovers.com and Wigs.com.
I love Jon Renau's sleek designs and the way they are presented flawlessly in each photo and really clearly on their website. They are also on social media and I have seen several YouTube wig videos and YouTuber and customer wig reviews.
Jon Renau offer a variety of human hair wigs and they also have a small variety of European Human Hair wigs. One thing about Jon Renau is that you might have to save up, as some wigs will set you back $2,000. The wigs are this costly because they are completely hand-tied, have balayage or blending of colors, and are long length quality human hair with unique designs. Also, the smart lace that Jon Renau wigs have means that the hairline is already pre-plucked and very natural looking. So Jon Renau is a premium wig brand if you're after a luxury wig.
4. Raquel Welch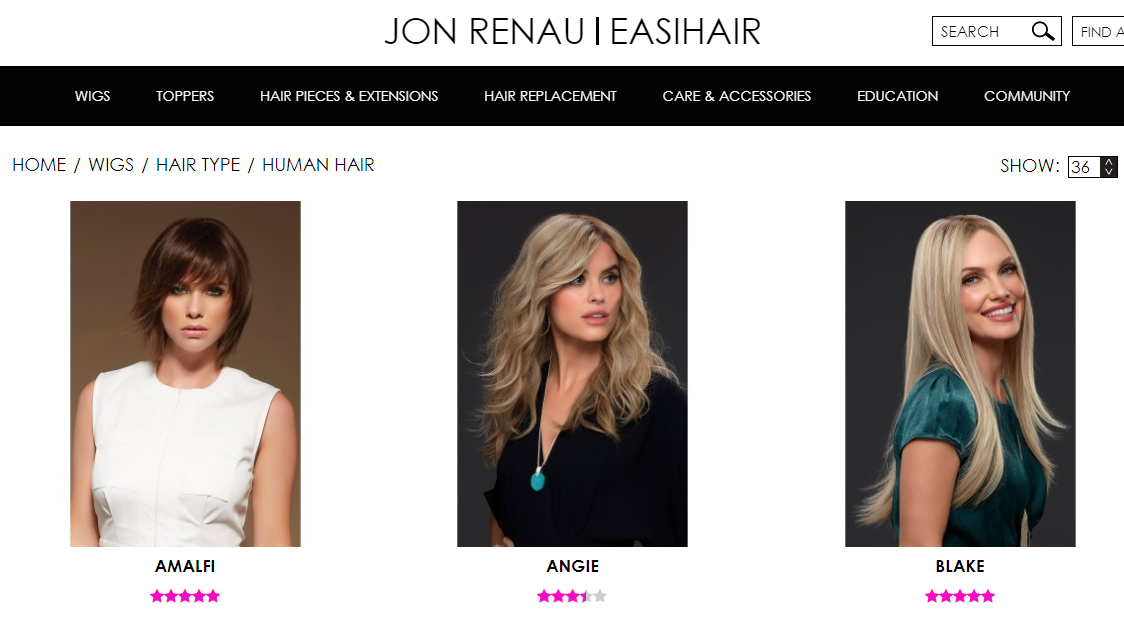 Image Source: wigs.com
Raquel Welch Wigs (known and I think lead by the celebrity Raquel Welch) seem to specialise more in Synthetic ready to wear and effortless styles. However, they also have a variety of successful human hair wig styles. Raquel Welch wigs does not have its own website, so you have to purchase the wigs from another larger website such as Wigs.com, Wigsalon.com or Wigoutlet.com (if you shop elsewhere make sure the website you shop through looks legitimate).
I absolutely love the design of the Raquel Welch human hair wig collection. They are stylish and available in different stunning designs. They give each wig a name that correlates with a certain look and feel for a wig. For instance, for one full and stylish wig that almost reaches the waist they named it "Glamour and More" and another shoulder length volumized wig they named "Bravo". I love this idea.
Raquel Welch human hair wigs prices are a little expensive, with one wig I saw costing over $3,000. However, many of these wigs are completely hand-tied and also, they seem to have expert coloring and highlights. The wigs are also expertly styled with unique layering on each wig, so you don't have to get it cut or styled.
Raquel Welch wigs come in many different designs, styles and colors. Even catering to natural redheads, which some wig brands do not do.
5. Freedom Couture
Image Source: freedomcouture.com
Freedom Couture is an Australian wig brand with a younger and trendy target audience. Their website is stylish and reflects their look. Freedom Couture sells different products such as human hair wigs, frontals and wefts, as well as haircare products which can all be bought from their website.
Freedom couture is well known from its social media presence, specifically YouTube where they have over 320K subscribers and post regular wig reviews and tutorials.
I noticed on their "Shop human hair wigs" section, the hair was displayed on mannequin heads, but on their home page it featured many models wearing the wigs and hair products. I liked how they featured models with different complexions.
The wigs were displayed in a glamorous way on the mannequin heads which made them really stand out.
Some of their wigs were very expensive, with one I saw being over $5,000 US dollars. This wig was extremely long at 30 inches long, so I realise the hair has had to be grown very long to be made into this wig.
Also, all of their human hair wigs have bleached knots, which means that the knot that tied the hair to the cap will not be visible or noticeable. And most of the wigs have carefully made baby hairs and a natural hairline that has been pre-plucked.
Freedom couture's website also features a "own it now, pay later" scheme, so the wigs can be saved up for if it wasn't in your price range.
The website's shipping policy is very clear to see, and also it mentions that all of their products on the website are in stock and ready to be shipped same day, which is good because some wig brands the products do have to be made and you may have to wait several weeks before it can be shipped.
6. Louis Ferre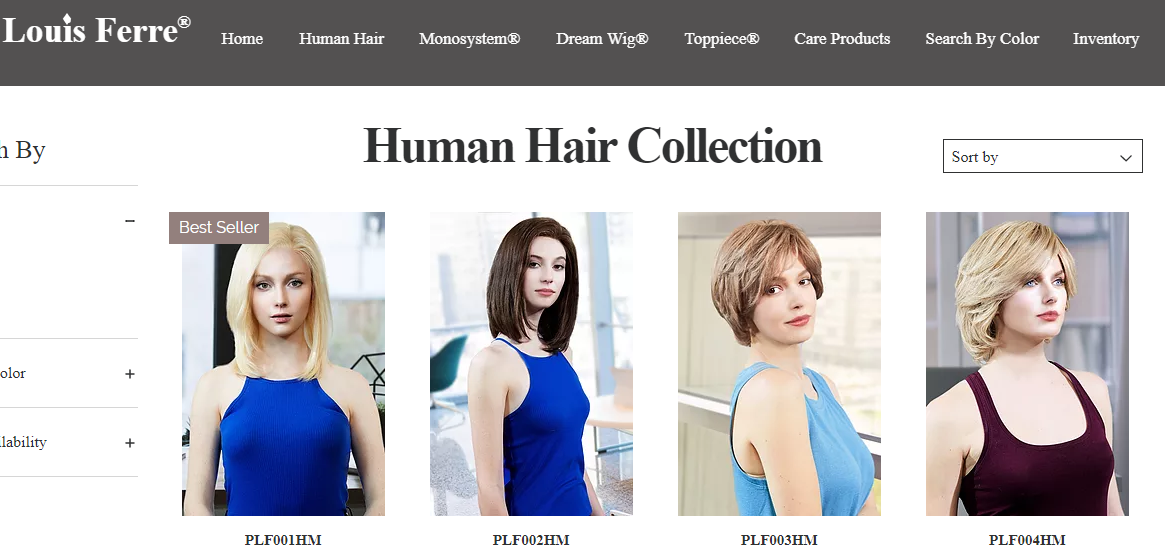 Image Source: louisferre.com
Louis Ferre is a company known for its innovations in the hair industry. They sell different styles of human hair wigs, ranging from short pixie styles, to longer hair styles.
They showcase their hair on their website but sell only through larger websites. The prices of their wigs are not listed on their website.
Louis Ferre also have their own line of hair care products which I assume you can use on the wigs.
One disadvantage of Louis Ferre's website was that they only featured women with very pale complexions, and they looked a little unrealistic in my opinion. Luckily on other websites that featured Louis Ferre's products, they featured women with different skin tones, which is much more appealing for customers to imagine what the wig would look like on them. Some of Louis Ferre's wigs did not have an identifiable name either, they simply had a code like PLF002HM, and I think customers might prefer more fun names.
However, I think Louis Ferre do a nice variety of human hair wigs in different styles, they have a huge variety of colors to choose from, including special rooted or highlighted options. I also noticed that they also have a salon locator feature on their website where I am assuming you can find a salon to get it trimmed and styled to your liking.
Louis Ferre have several YouTube videos through Wigs.com's YouTube channel, plus customer reviews, so you can see the wigs in motion too.
7. Estetica Designs Wigs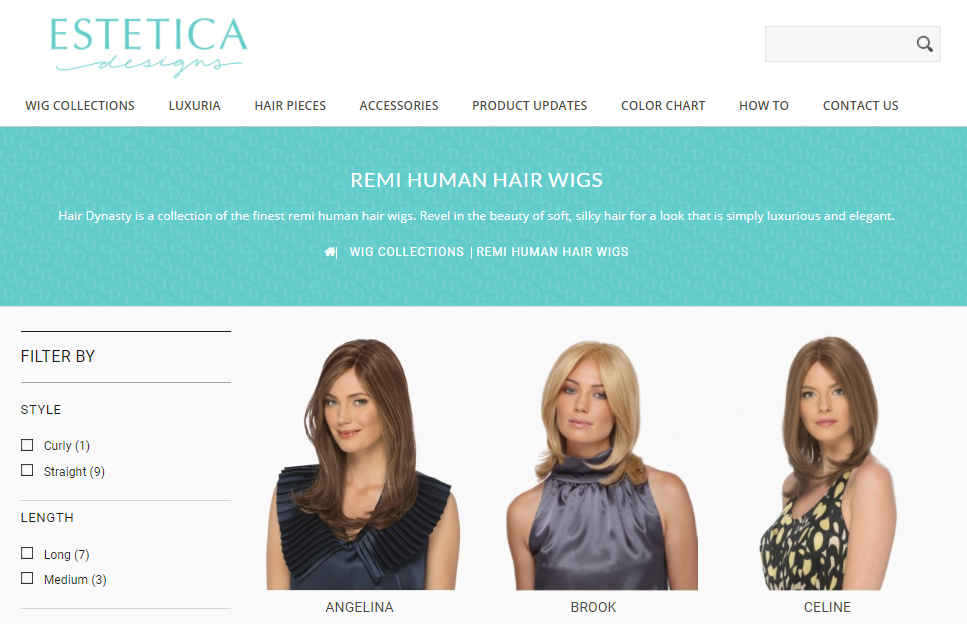 Image Source: esteticadesigns.com
Estetica Designs wigs are a unique wig brand selling both synthetic and human hair wigs. They sell a small variety of human hair wigs consisting of the majority having a monofilament top or base and sometimes a lace front.
I know that mono tops are comfortable for sensitive scalps and customers going through medical treatment such as chemotherapy who require a soft wig base. The mono tops also have great coverage and look realistic. Mono tops are consequently more expensive, and this may be why many of Estetica Designs human hair wigs are on the expensive side.
Estetica Designs have a clear website to navigate in a bright blue theme. They have named the wigs women's names, like other wig companies, and they showcase their products.
I also liked how Estetica Designs have a section on their website called "Product Updates" which lists all their new products coming soon and their new hair colors being released.
However, one thing I did notice was they didn't list their wigs prices on their website, and you cannot buy from their website. You can purchase Estetica Designs through other larger websites such as Headcovers.com, Wigs.com and more.
So, there you have it, seven online human hair wig brands. I hope you learned a thing or two about human hair wigs, and the different online brands out there. There are many different options if you are dealing with hair loss or just want a new look, and there is a wig out there for everybody.