Lace wig or mono wig, which one is best for me
Lace front wigs and monofilament wigs are two common types of wigs out there in the market. Both of these wigs have benefits and drawbacks, so choosing the best one will depend on your needs and preferences. Today we will go over the distinctions between these two types of wigs and assist you in deciding which one is ideal for you.
What is a lace front wig and mono wig?
A lace front wig is a wig with a lace material at the front hairline, which creates the appearance of a natural hairline. The natural-looking hairline of a lace front wig is one of its greatest benefits. The lace material allows a natural transition between the wig and your own hairline. In addition, lace front wigs are available with both synthetic and human hair, giving them a diverse option for wig-seekers. However, the lace material on lace front wigs can be fragile and may require more care to prevent breaking.
A monofilament (mono) wig, on the other hand, features a sheer, fine mesh material at the top of the wig cap, which shows the scalp for a more realistic appearance. Monofilament wigs are renowned for their adaptability and comfort. The sheer material at the crown of the wig cap allows the scalp to be visible, creating the appearance of natural hair. Monofilament wigs are available with both synthetic and real hair, giving them a versatile alternative for wig-seekers. In addition, monofilament wigs are typically more durable than lace front wigs, making them an excellent option for those who desire a wig that will last a long time.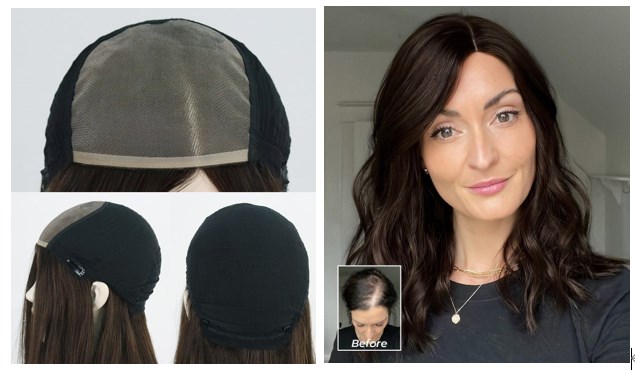 Which type of wig is best for me?
When it comes to choosing between a lace front wig and a monofilament wig, it really comes down to personal preference. If you are looking for a wig with a natural-looking hairline, then a lace front wig may be the better option for you. However, if you want a wig that is versatile and comfortable, then a monofilament wig may be the better option.
Additionally, it is essential to evaluate the type of hair used in the wig. Synthetic and human hair alternatives are available for both lace front and monofilament wigs. Synthetic wigs are typically cheaper than human hair wigs, although they may not appear as natural. Human hair wigs, on the other hand, are typically more expensive but appear more natural. If you desire a wig that closely resembles your own hair, a human hair wig may be your best option.